Hailey Woman 'Upcycles' Old Bike Parts Into Jewelry, Art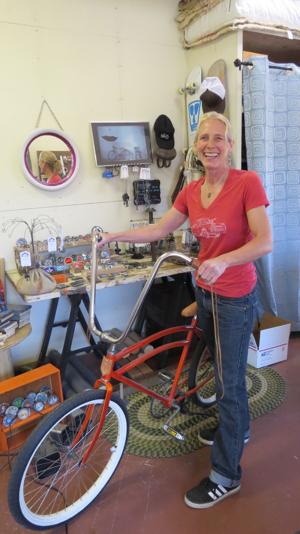 HAILEY • Jennifer Biondi never threw away the old chain from her first bike.
"I put time and miles on that chain, wear and tear on that chain, and I knew some day I would use it to create a memory, not add to the landfill," she said.
That chain ended up being the impetus for a business that went far beyond the imagination of a young girl who had found freedom in riding the old banana seat bicycle her father had ridden before her.
Biondi taught herself to use her grandfather's old tools to turn cast-off bicycle parts into jewelry, belts, drink coasters, mirrors and clocks, after mudslides from the 2013 Beaver Creek Fire forced the closure of the Idaho Bike Ranch where she had coached mountain bikers.
And now she has created a business for herself creating table lamps out of bicycle forks, knobby tire belts, bicycle chain belt buckles, key chains featuring bottle caps, chain and washer necklaces, bike reflector wine stoppers, bike tube earrings that look as light as a feather and bottle openers made out of chains.
Biondi's business has provided her parents with a way for them to augment their retirement. And it's provided work for her brother, after he suffered facial paralysis and hearing loss following complications from a reconstruction of the ACL in his knee.
A former salesman, Biondi's brother became a recluse as he became self-conscious about his disfigurement. But he regained self-confidence as Biondi sent him around to bike shops to collect old parts. Now, he's part of her sales team.
"How cool is it that I can provide work for other people?" she said. "The more I make the more I get excited. Now I can't stop."
She's now experimenting with making toilet paper dispensers out of bicycle pumps.
"I call it 'upcycling,'" she said. "It's taking something that would otherwise go in the garbage and making it into something better — like taking a bike tube that won't hold air and turning it into a belt buckle. The notion of upcycling has its own wheels — I'm just the fortunate person who gets to peddle the concept."
Biondi pursued an engineering major at San Jose State on a basketball scholarship, but switched to general education at her coach's insistence. She worked at a variety of ad agencies and designed products for the toy industry, finally winding up designing bike parts and accessories for Bell Sports.
It was there that she learned to enjoy mountain biking. And in 2005 she moved to the mountain biking mecca of Sun Valley where she eventually got a job as a mountain bike coach at The Bike Ranch. There she helped build a pump park course and a variety of skill-building jumps, bridges and tipis — a throwback to her childhood when she built a bike jump and charged the neighborhood boys $1 to ride off it into a lake.
Biondi started out by making a belt out of a bike tube, a keychain and a few other accessories for herself. But when a Sun Valley vacationer ordered $600 worth of key chains to promote bicycling in Greenville, S.C., she realized she might turn her hobby into a business.
Jeff Davis of Sturtos ordered some key chains for Sturtos in Hailey. Power House had her design some accessories with their log. And cyclists were so taken by the trophies she made out of cranksets for the Galena Grinder that they asked her to make trophies for subsequent races.
She plans to sell her accessories at the Wood River Farmers Markets in Hailey and Ketchum this summer. And she's been invited to sell her wares at Outside Magazine's five-day Bike and Brew fest in Santa Fe, N.M., in mid-May.
"People love the product and I think it's an incredible idea for recycling old bike parts," said Davis.
Hailey cyclocross enthusiast Jeff Bacon concurred: "What she's doing is awesome. I like that she uses things that would normally go to the dump. I'm a cyclist and I love the idea that you can wear it in addition to riding it."
Biondi says it's a great way for people to preserve memories.
"If you tour France, you store up memories in your bike tires. Bring back the worn-out innertubes and I'll make something out of them for you to remember that trip by."
More Online
For more information, go to upcyclebrand.com.